Opportunities
»
Free Associate Membership
»
Request Information
Products and Services
»
Super Solo Ads
»
Instant Sales Extreme Traffic Package
»
12 Memberships FREE for LIFE
Free Stuff
»
Internet Marketing For Newbies
Free Traffic Packages
»
500,000 Mega Ad Credits
»
Promote To ONE Million
Brought To You By
Zoey-Red LeFey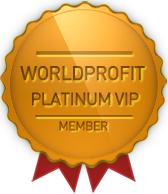 Published by: Zoey-Red LeFey on 28-Jul-19
Increase Your Sales Up To 500% by Tracking Visitors' Footsteps
When you think of tracking, you probably think of tracking the response to your various ads and promotions to determine which of them are profitable and which are just a big waste of time and money. This is all very important -- in fact it is one of the most important keys to your success.
But there's a lot more to tracking than that. You see, your tracking efforts should not stop once a visitor responds to one of your ads or promotions. In fact, no matter how a person stumbles across your site it's just as important to track their footsteps as it is to track how they found you.
==> Tracking - How It's REALLY Done!
------------------------------------
That's right, I'm talking about tracking what people do once they arrive at your website. Here's a simple example ...
Say a person arrives at your homepage, reads a paragraph or two, and then leaves. A few minutes later another visitor arrives and does the same thing. Ten minutes later another visitor shows up, he or she pokes around for a few minutes but they too ultimately leave without exploring much.
You probably don't realize it, but chances are this is going on lots more than you think. For one reason or another, the majority of people visiting your site are probably leaving without doing whatever it is that you want them to do.
As Internet marketers we tend to think that everyone who arrives at our website is going to read every word on every page. Then they will download our free e-book, subscribe to our e-zine, purchase our product, or do whatever else it is we want them to do. After all, who in their right mind is not going to be interested in what we're offering. Right?
Unfortunately that's just not the case ... some people just won't be interested in what you are offering at your site. And there's nothing you can do about that. Even if you are attracting "targeted" visitors to your website, not every dog owner is going to buy your book on dog training.
==> Why You're REALLY Losing Money...
-------------------------------------
The real problem however, is when people who are interested in what you're doing don't take the action you want them to take once they arrive at your website. Maybe they got lost, maybe they got confused, maybe they were about to order your product but bailed out at the last minute when they saw your order form, or maybe there was some other problem.
Trust me, you are losing money right now for no reason other than the fact that your website is not as good as it could be. And this applies to every single site on the web. Even ours, and yes, even sites like Microsoft.com and Yahoo.com.
A website is never "finished" and that's why savvy marketers are constantly tweaking their websites to try to increase the response to their various offerings. Tweaking headlines, re-writing sales copy, removing graphics, adding graphics, changing the navigational system, etc. ... these are all things that most webmasters are doing practically every single day in order to convert visitors into more revenue.
The bottom line is that it's pretty silly to spend a lot of time, effort, and money advertising your commercial website if it does not do a good job of converting visitors into revenue in one way or another ... wouldn't you agree?
Obviously I'm a little biased, but the absolute truth of the matter is that no other tracking system can do everything that AdMinder does at such a low cost.
Click the link below for all of the exciting details, and to see how this incredible product will help you to make more money online. And be sure to take the online Tour ...
http://www.DirectOnlineBiz.com/?rd=tq7JrJgn
Just look how user-friendly it is ... and check out all of the invaluable data and stats it provides at the click of a few buttons. How does YOUR ad tracking system compare?
Zoey-Red LeFey is the Owner of http://DirectOnlineBiz.com. Check our newsletter out for Business Building Tips and Money-Making Strategies! After you join our newsletter, I'll give you access to our $47 Bonus Product to generate Traffic to any website. No charge!. Sign-up now, it's FREE!
Resource

Specials
»
Zoey-Red's Trendy Styles
»
Sokule
»
FREE Classifieds
»
Zoey-Red's eBay Super Store
»
Article Directory
»
Get 20+ Income Streams
»
Clickbank Super Store
My Affiliate Programs
»
Our BEST Programs